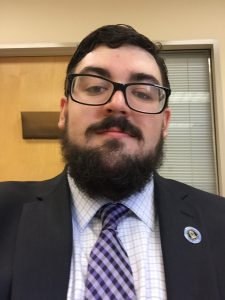 I am an Assistant Professor of Communication Studies and the Director of Debate at Kansas State University.
My research draws on the tools of Rhetorical Studies and Media Studies to examine how people use communication to both uphold and challenge forms of social inequality. I am especially interested in questions of visual rhetoric, racial inequality, policing, and surveillance. My current research projects revolve around how police have used visual and social media in order to respond to public crises that challenge the authority of police in the United States.
In addition to my academic research, I have over two decades worth of experience coaching debate, forensics, and public speaking at the high school, middle school, and university levels. As an undergraduate at Baylor University, I was a four-time National Debate Tournament (NDT) qualifier, a Cross Examination Debate Association (CEDA) octafinalist, and NDT double octafinalist. I have since coached multiple teams to the elimination rounds of CEDA and the NDT at Baylor University and George Mason University. I have worked with numerous high school programs, including Midway High School, the Blake School and the Harker School. He has served as a lab leader at the Jayhawk Debate Institute and the Baylor Debate Institute. He has also taught debate summer courses and engaged in debate curriculum development for the Duke Talent Identification Program.
I also offer my professional services as a communications consultant, speech writer, editor, and content creator. I have worked with local progressive advocacy campaigns and electoral campaigns to help craft compelling messages, write speeches, and coach candidates before public speaking events. I have also previously worked as an editor and content producer for a sports blogging website, doing live sports coverage, podcast production, and weekly content production.